Dec92018
Android Apps
Liquix 2: Vaping Tool for Android & Windows

Estimated reading time: 38 minutes
Viewed 4.337 times
---
For nearly a decade now Liquix has been the standard tool for mixing liquids and recipes for ecigarettes. There is a brandnew version now which offers the same straightforward workflow as its predecessor but comes with a whole bunch of new and powerful features, packed in a graphically impressive user interface.
Liquix 2 is available now for Android and for Windows.
Screenshots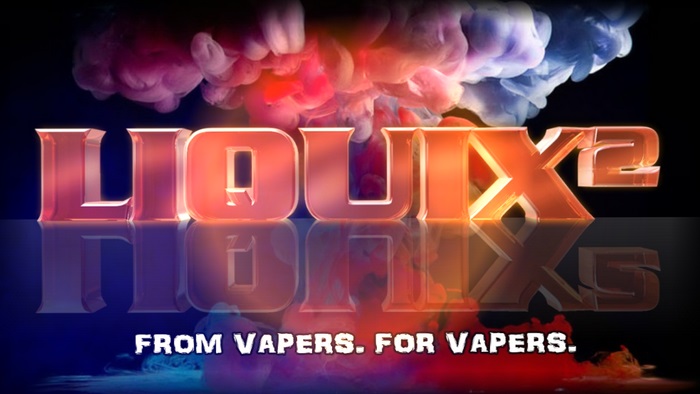 Liquix has become the most popular vape app.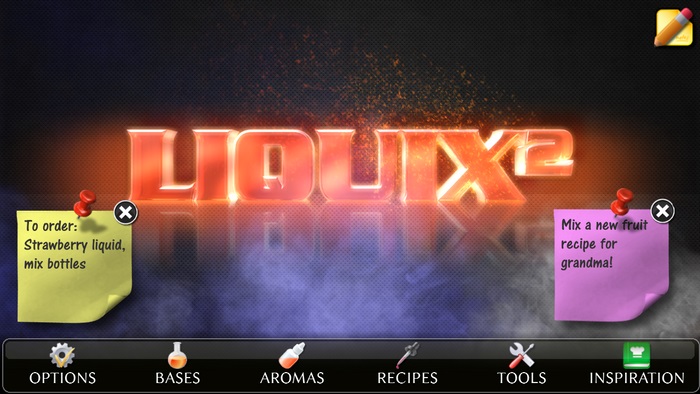 Choose between a dozen of animated(!) backdrops.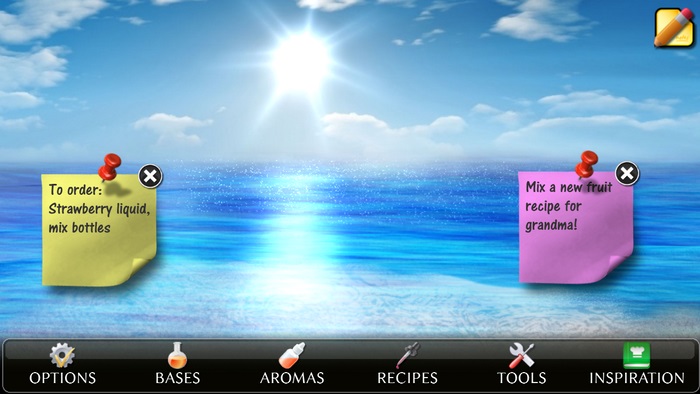 Edtiable Post-Its help you organizing your liquids.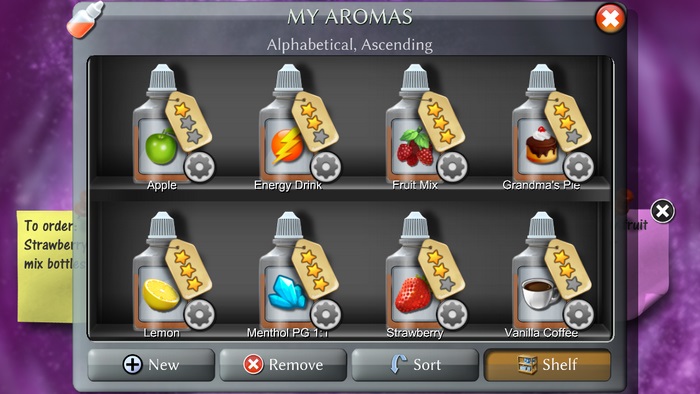 Aromas, bases and recipes are clearly displayed.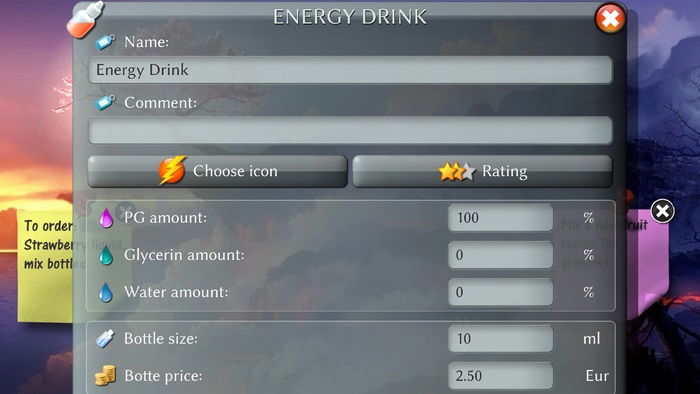 Editing / adding an ingedient is simple and straightforward.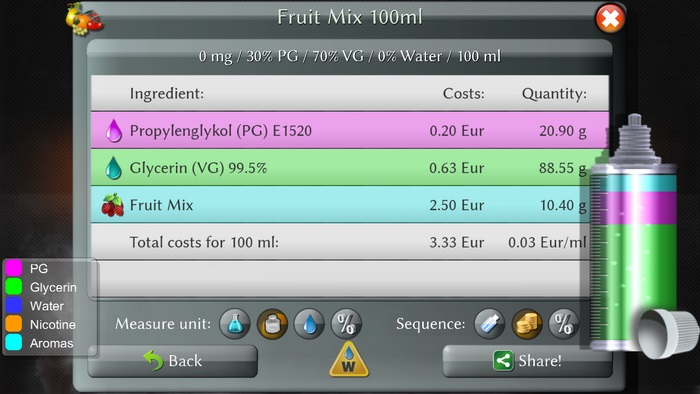 The mixing screen shows all quantities as well as costs.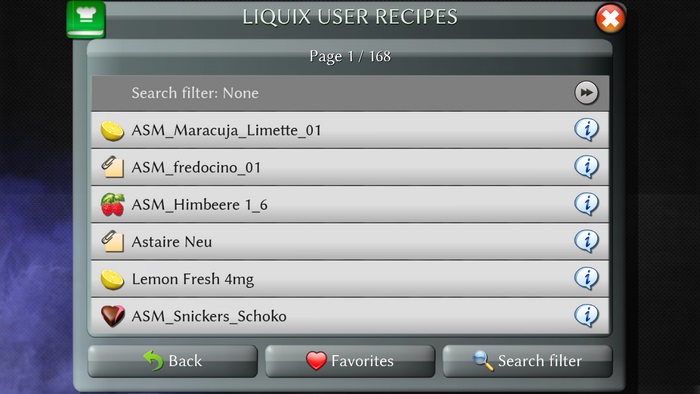 Access more than 13.000+ online recipes to get inspiration!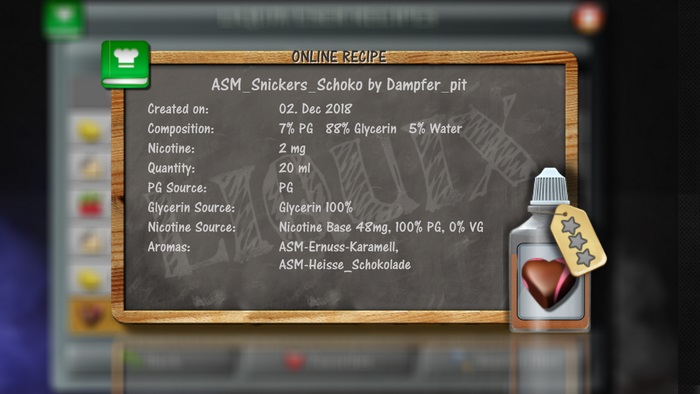 Included Bottle Tag Designer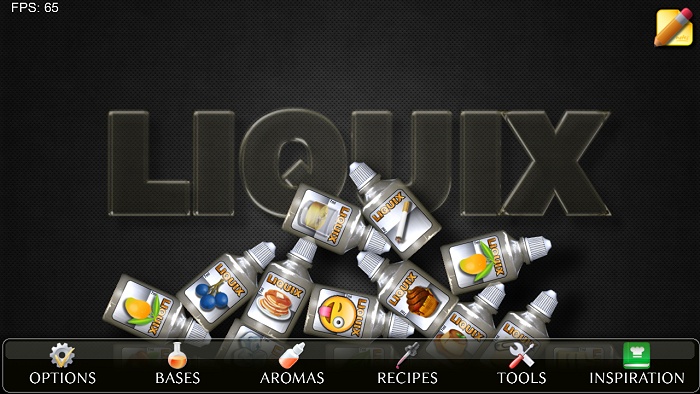 Animated Wallpaper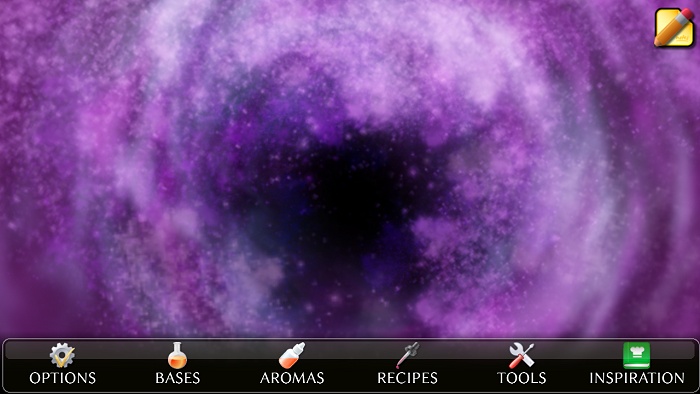 Animated Wallpaper
Animated Wallpaper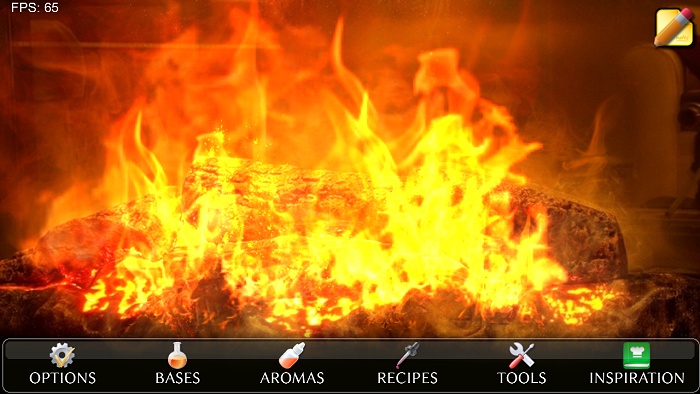 Animated Wallpaper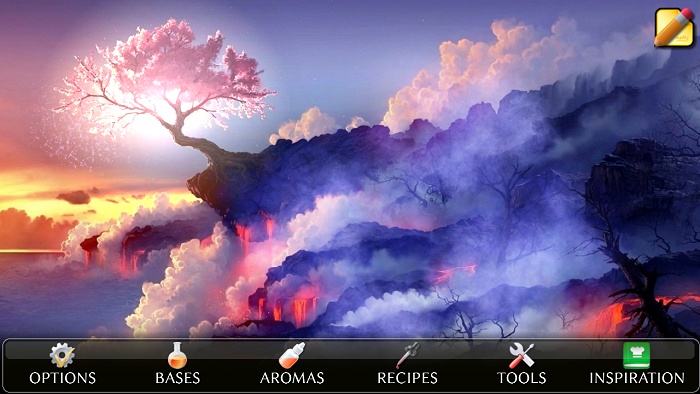 Animated Wallpaper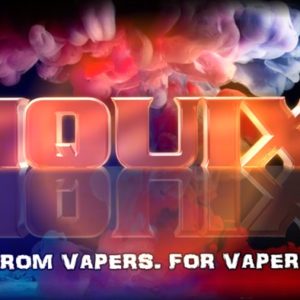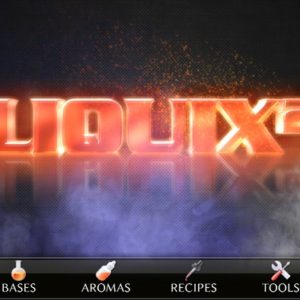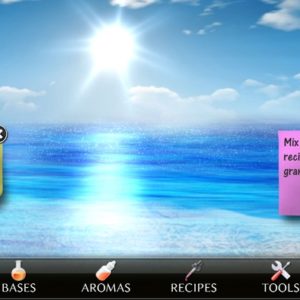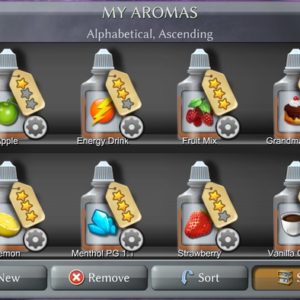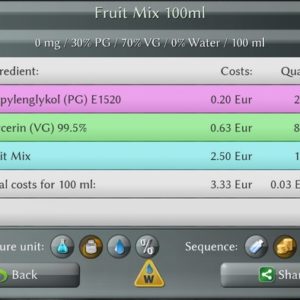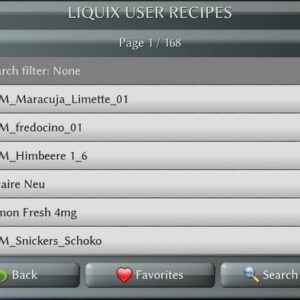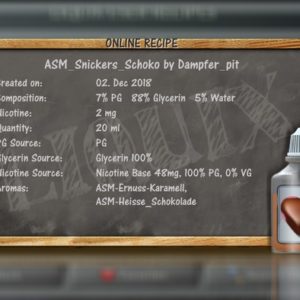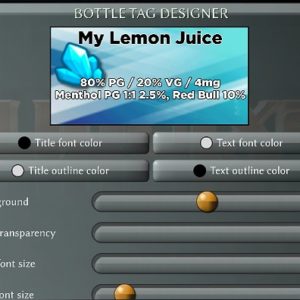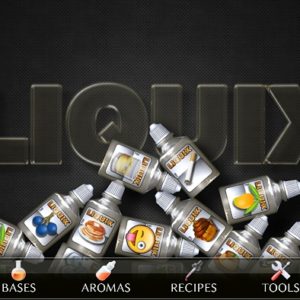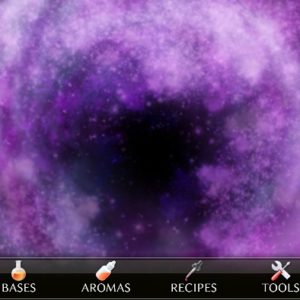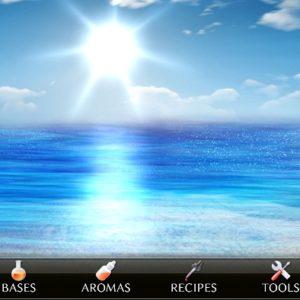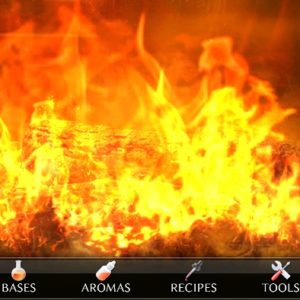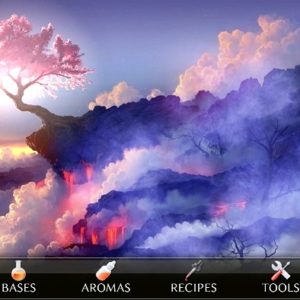 ---
Vaping is fun – and has meanwhile become a kind of lifestyle for many people. So why should mixing a liquid feel like filling out an Excel spreadsheet then? Unfortunately, this is the case with with most liquid calculators around. Liquix proves again that there is another way and that mixing your own liquids can be fun.
With Liquix you manage your bases (PG, VG, nicotine bases) and aromas in an easy and very straightforward way. From these ingredients you can quickly mix and create any recipes and liquids for your ecigarette. The workflow is simple and clear:
Enter your bases (glycerin, PG and nicotine bases).

Enter your flavours.

Mix these ingredients to any recipes.
Of course you can edit all stored ingredients quickly at any time. All stored bases, aromas and recipes are clearly sorted and displayed in a shelf view with little bottles and individual icons. If you like, you can also display a simple list instead of a shelf view. Both views can be sorted by name, price, date or own rating. When mixing a recipe you can freely determine which ingredients your liquid should contain, i.e. which proportion of VG or PG, if and how much nicotine, which flavours (and in which quantity) and how much of this liquid you want to mix.
Tip: mix by weight
To mix a recipe, just tap on the "mix" button – Liquix now shows you clearly how many millilitres, grams or drops you have to mix from every single ingredient into the liquid. Yes – in contrast to many other calculators Liquix allows you to mix either with the syringe (milliliter), with drops or with a scale (gram). Mixing with a scale is very recommendable, because all it requires is
a fine scale
and some
plastic bottles
.
Place an empty bottle on the scale and then simply add the amount of each ingredient specified by Liquix into it, one after another. No syringes, cannulas or other accessories are required for mixing by volume (ml), so it's a very convenient yet exact method to create your own vaping liquids. When mixing a liquid, Liquix automatically sorts the individual ingredients by cost (cheap ones first, expensive ones last), so it's no drama if you mess something up.
Use of mixed bases
Liquix 2 now also allows the use of mixed bases (e.g. 50% VG / 50% PG). However, it should be noted that mixed bases are not really suitable for mixing arbitrary mixing ratios, as Liquix also points out. The use of pure PG and pure VG is ideal for mixing.
All costs at a glance
If you have entered the respective purchase price and quantity for all your ingredients, Liquix will show you how much your final liquid or recipe will cost – and even how much the quantity used for each individual ingredient costs. So you can clearly see which ingredients are the cost drivers in your liquid and how much it costs per mixed bottle.
Tip: In order for Liquix to be able to show you the exact costs of your vaping liquids, it is advisable to also include the shipping costs paid for an ingredient in the entered price – this is often forgotten when you buy bases or aromas from the Internet, but in the end it adds up noticeably.
Full power under the hood
Below the clear interface, which doesn't differ much from its predecessor, there are many new functions and an intelligent management of your data. Here are just a few of the many new features:
Alternative input methods
Tired of typing? Four different input methods are now available to indicate the proportion of PG, VG and water of an ingredient. You can choose between them to your personal preference: sliders, scroll bars, drag flags or directly via keyboard. Depending on the screen size, one or the other input method can be more time-saving. These methods can be selected in the options menu.
Auto fill-in aroma manufacturer names
When typing aroma names, Liquix now auto-suggests manufacturer names. You can manage them in a list and edit them at any time.
Bottle Tag Designer
Create creative labels for your bottles in seconds using the integrated bottle tag design tool.
Intelligent data management
Warns you about accidentally deleting flavours and bases that are used in existing recipes.
Efficient SQL database administration
Not only does it give you quick access to your data, but also offers much more data linking, combining and sorting functions.
Intelligent cost calculation
Liquix shows you if there are certain ingredients where you did not enter a price or a quantity for to assure that the cost of your liquid can be calculated.
Minimize input errors
When creating a liquid, Liquix checks if it is mixable and if you entered all important data, proportions and quantities correctly to get a proper liquid according to your specifications.
Quick ingredient selection
Create / edit a recipe in seconds through optimized workflow and super-fast ingredient pick-up.
Database export and import
Backup your ingredients and recipes or import them into a Liquix installation on another device.
Clear mixing results
A clear display of all ingredients and the required amount makes mixing the liquid easier. Each ingredient can be marked so that you can see at a glance which ingredient is being mixed by looking back and forth between the device and your bottles.
Search in bases, flavours and recipes
No matter how many ingredients you have stored – Liquix 2 now allows you to search for a certain ingredient in seconds, lists ingredients with similar names or only those that contain only VG or only PG.
Practical Sticky Notes
Create on-screen notes that remind you of important things at a glance.
Vaping should be fun!
Liquix is deliberately colourful and a little playful. On the one hand, to show even beginners that mixing your own liquids can be fun and does not have to feel like filling out an official form. On the other hand, to simply bring a little joy into the grey everyday life. The clear surface and more than two dozen animated backgrounds are available for every taste. If you prefer it simple, you can also deactivate most animations and backgrounds.
Clean, polished graphics
Liquix clearly wants to make mixing your liquids an experience – and that's why the app comes very polished: not only the workflow is optimized so that you can edit your ingredients or create a recipe with as few "taps" as possible, a lot of attention to detail has also been invested by the developers. Aromas and recipes can be provided with their own icon bottles (a total of over 100 different icons are available, from fruit to smileys to snack icons and more), the clean and clear user interface is very appealing. Small animations here and there give the app a nice futuristic yet frisky feel.
What is unique about Liquix is that when mixing a recipe, it graphically displays the proportions of the individual ingredients in a bottle animation. You can literally see how much PG, VG or nicotine is in the bottle – or how much of the liquid consists of the flavours used. This bottle animation can also be deactivated in the settings, if you prefer it more spartan.
A real eye-catcher are the animated backgrounds (wallpapers), which you can select in the settings menu and which offer awesome effects. More than a dozen are available here (and more to come with frequently deployed updates), from cosmic fog to a steaming cup of coffee, from a fireplace to a thunderstorm or a flight through space. With the upcoming updates there will certainly be more of these animated backgrounds. So browsing through your aromas and mixing your recipes is really a lot of fun.
Data export and import
The complete database with all your stored bases, aromas and recipes can now be exported to the "Documents" folder on your device at any time. From there you can restore it in case of an emergency or copy it to another device to access all your ingredients and recipes there without having to enter them all again.
In addition, you can also have the complete contents of the database output as text, which can then be copied to any location (and also played back). This is a "fallback" function in case the export of the database to the "Documents" folder should fail on your device for any reason.
Unfortunately the data of the previous version cannot be imported. This is mainly due to the fact that Liquix 1 was removed from the Play Store, like many other apps, during the Oreo introduction of Google. This was also the main reason for a completely new second version, since the predecessor could not be updated anymore and no app with the same namespace could be loaded into the store. Unfortunately Google is rigorous here. And since Android doesn't allow one app to access data from another app's sandbox, Liquix 2 doesn't have access to the data of the previous app per se.
Access over 13,000 recipes!
If you run out of ideas for mixing new liquids or trying out new flavours, get some inspiration from other Liquix users! Under the menu item "Inspiration" you can see more than 13.000 recipes that Liquix users have shared with others within the last years. There you can also search for recipes with specific ingredients, e.g. recipes containing vanilla, strawberry, sweet flavours or maybe tobacco flavour. With the full text search, you can also search for recipes that contain very specific flavours (name or manufacturer) or, for example, the words "christmas" or "halloween" in the title.
The number of recipes is constantly growing – and if you like, you can add your own recipes, too. When mixing a liquid, simply tap the "Share" button to load your recipe into the user database. Then other users can try your recipe and use it as a suggestion for their own creations.
Summary
Liquix 2 is a completely revised and extended version of its predecessor and has been reprogrammed from scratch. However, the handling and workflow has not been changed significantly compared to the predecessor, so Liquix veterans should still feel being at home.
But a lot has changed beneath the interface: the internal management of the ingredients has been greatly optimized, so that you can now store any number of bases, aromas or recipes that is limited only by the memory on your device. Also, Liquix 2 is "smart" enough to warn you when you're about to delete bases or flavors used in one of your recipes and let you know exactly which recipes would be affected then.
Also new and very practical is that when adding flavors the manufacturer name is automatically completed while typing the flavor name. This saves a lot of typing. The list of auto-suggested names can be freely edited in the settings menu. When saving a recipe, Liquix does an automatic check for all important data (specified ingredients, quantities etc.). If any vital data is missing and therefore the recipe could not be calculated, you'll be informed. So you can be sure that all your saved recipes are really mixable.
In the settings menu you can change the language of the interface – and if the app has not yet been translated into a certain language, you can contact the developers directly via the integrated feedback function and offer yourself as a translator, or just send some suggestions.
Another highlight are the practical post-it notes, which can be created with by tapping a note icon in the upper right corner. This way you can remember to order supplies for an aroma in time or note down a spontaneous idea for a recipe that you want to try out later.
Liquix 2 now contains almost a decade of experience – and you can clearly see that. This app is developed by vapers and for creative vapers who enjoy vaping instead of filling out dry tables.
Liquix 2 is available now for Android and for Windows.
Video
Next page: Interesting facts and FAQs about Liquix 2

Liquix 2 is available now for Android and for Windows.
Things to know and frequently asked questions about Liquix 2
Does Liquix support mixed bases?
Liquix 2 now also supports mixed bases. For example, you can use a nicotine base that contains 50% VG and 50% PG.
However: mixed bases are not really suitable for mixing, because you can't create any mixing ratio with them. The reason for this is purely mathematical. If I use a pure PG base for mixing, only the PG portion in the liquid increases. However, if a base contains both, the addition of the mixed base also increases both the PG and the VG content in the liquid at the same time. With a 50/50 base this may still be justifiable in some cases, with bases with a really "odd" mixing ratio like e.g. 30/70 it is almost impossible to achieve any mixing ratio.
By adding pure PG and pure VG this can be partially compensated – but then the total amount of the liquid increases, which one would not want in any case, because the finished liquid would not fit into the provided bottle anymore. Therefore one should do without mixed bases if possible and mix with a pure PG- or VG base and the addition of pure VG and PG. This way any mixing ratio can be achieved and exactly in the amount you specify.
What is the point of mixed bases then? Well, they are basically for convenience and are suitable for vapers that don't want to mix themselves. Basically, all they have to do is add an aroma and done. But then you are limited to a certain mixing ratio, of course.
I am using a mixed base – do I need additional PG and VG?
The problem with mixed bases is that they already exist in a fixed mixing ratio. With a 30/70/8mg base this means 30% PG, 70% VG and 8mg nicotine.
And this ratio is ONLY correct as long as nothing else is added. As soon as you add even one single aroma (usually PG), the PG content in the liquid increases, whilst the nicotine content decreases because the total amount of the liquid changes. In order to balance this out and restore the desired mixing ratio, you need separate ingredients: pure PG, pure VG and a nicotine base. Only then the mixing ratio can be compensated by adding this or that source to achieve the wanted result.
A mixed base is therefore suitable for direct vaping, eventually for diluting, but for mixing only with the addition of pure PG and VG.
If you still want to mix with a mixed base, simply add a "dummy" VG and PG source to Liquix and add them when mixing. Liquix will use the additional PG and VG source ONLY if your liquid can't be reached otherwise.
Where do I enter manufacturer names for flavours?
In Liquix 1 the manufacturer name was inserted into the aroma name field when creating a new aroma by using a button. In Liquix 2 this is now much faster, but is not immediately visible for former Liquix 1 users:
With Liquix 2 you simply type the manufacturer name into the aroma name field. After three typed letters Liquix automatically enters the appropriate manufacturer name for you (this feature is called "Auto Complete"). So if you have a flavour from INAWERA FLAVOURS, just type "INA" into the flavour name field and Liquix will complete the complete manufacturer name for you. This saves a lot of typing.
Liquix gets the manufacturer names from a list, which you can edit yourself in the menu "Settings". When you type, Liquix compares your input with the manufacturer names stored in this list. You can remove all manufacturer names in the list that you don't need – or add new ones.
Why a second version of Liquix?
There are several reasons for this. On one hand, Google simply removed many apps from the Play Store that weren't upgraded quickly enough for Google's new Oreo OS. Since apps that were removed from the Play Store can't be uploaded under the same UPI (Unique Package Identifier) again, a completely new app was necessary. Here Google, thanks to its monopoly position, unfortunately leaves no choice to developers.
On the other hand, Liquix 1 was more than four years old and basically aimed at an outdated generation of devices and Android versions. Therefore the successor was reprogrammed from scratch and now also uses the advantages of new Android systems, such as the simplified export of data (previously, various hacks were necessary, which did not really work on many devices).
Fans of Liquix 1 like to complain that there are no big differences between Liquix 1 and its successor. Exactly! This is intentional. The change to the successor should be as easy as possible and although the technology of Liquix 2 was completely reprogrammed and redesigned, the user interface and operation are 90% the same as those of the predecessor, so everyone shoulg get used to it in a very short time. But the successor has one big advantage: it will be frequently updated over the next years. Liquix 1, on the other hand, is a relic that still lives on many devices, but can't and won't be updated anymore due to Google's ban from the Play Store.
Can I import data from Liquix 1 to Liquix 2?
Unfortunately, that's not possible. Since Liquix 1 was "forcefully" removed from the App Store by Google and therefore no more app with the same namespace can be loaded into the store, Liquix 2 is not allowed to access the data of Liquix 1 due to the "sandbox" system of Android, in which all data of an app is only accessible for the app itself. Liquix 1 offered the possibility to copy the data to SD card, but this only worked for a very small part of all devices and was more like an unofficial "hack", because the implementation of the SD card at that time (that was more than four years ago) differed between manufacturers and Android versions.
Meanwhile, both Android and Liquix have evolved, and Liquix 2 now goes the compliant way when it comes to exporting data and copies it into the documents folder of the device, if desired, from which you can then easily access the exported data, do a backup or load it back into Liquix 2.
I am issing feature XYZ!
Basically we are always grateful for user feedback. The more, the better. And useful suggestions for new features are always welcome. Please keep in mind, however, that Liquix is used by many different users (from beginners to professionals) with very different habits. So what seems to make sense for one user, might make the use of the app unnecessarily more difficult for others.
For example, a user said that he only uses ONE aroma and that he therefore considers the creation of aroma entities unnecessary. On the same day (no joke), feedback came from another user who uses HUNDREDS of flavors and therefore would love to see certain special features. Between these extremes we have to decide what makes sense for the majority of Liquix users and what might not. And that's not always easy, because every major update also opens up new possible error sources. This is also the reason why Liquix is only updated when it is necessary – and not because it is "en vogue" to add as many updates as possible to an app.
Please always send us as concrete suggestions as possible. For example, a user asks for new aroma icons, but unfortunately does not specify which ones he would miss. That only leaves us to guess.
If Liquix should cause problems on your device (the screen may be cut at some corner etc.) or to clarify a certain problem, it is always good to send a screenshot. Usually a screenshot is taken when you hold down the Power button and the volume down button simultaneously for a few seconds. With some manufacturers, the power button and the home button have to be pressed at the same time.
In any case, our main goal is to keep the app as simple, intuitive and fast as possible. Feedback or suggestions that support this goal are always welcome, of course.
Why is Liquix not for free?
The development of Liquix 2 alone took many hundreds of hours of work – in both apps together well over a thousand working hours. Nevertheless, Liquix is basically a lifeblood project that is only kept alive by the commitment and motivation of its developers. And they can only dedicate themselves intensively to the project and leave other things behind if the time and effort invested is appreciated by the users. By the way, this is the case with
all
Apps – even if the user is no longer aware of this due to the rampant free mentality nowadays: there are many hundreds to thousands of working hours neccessary to build a devent app. There is always a person (or more) who invest much time and work to make it run and keep it running so that others can conveniently use the result of this work.
Many companies today try to compensate their development costs by in-app purchases, where the user pays ten times as much as when buying an app once. Others, on the other hand, quickly throw cobbled together apps onto the market, which they later no longer take care of, not to mention personal customer support. Liquix wants to avoid both ways and therefore hopes that the simplified mixing and management of liquids is worth at least the price of a bag of chips or half a liter of beer to the user. Well, everyone can answer this question for himself then.
Happy Vaping! ūüí®
Liquix 2 is available now for Android and for Windows.
View Paged
View all articles
Articles in this category
---
| | |
| --- | --- |
| We hope you like this blog. There is not only a lot of dedication, but also many, many hours of work involved. With the voluntary donation of an amount of your choice you support this project and keep it alive. | |
---